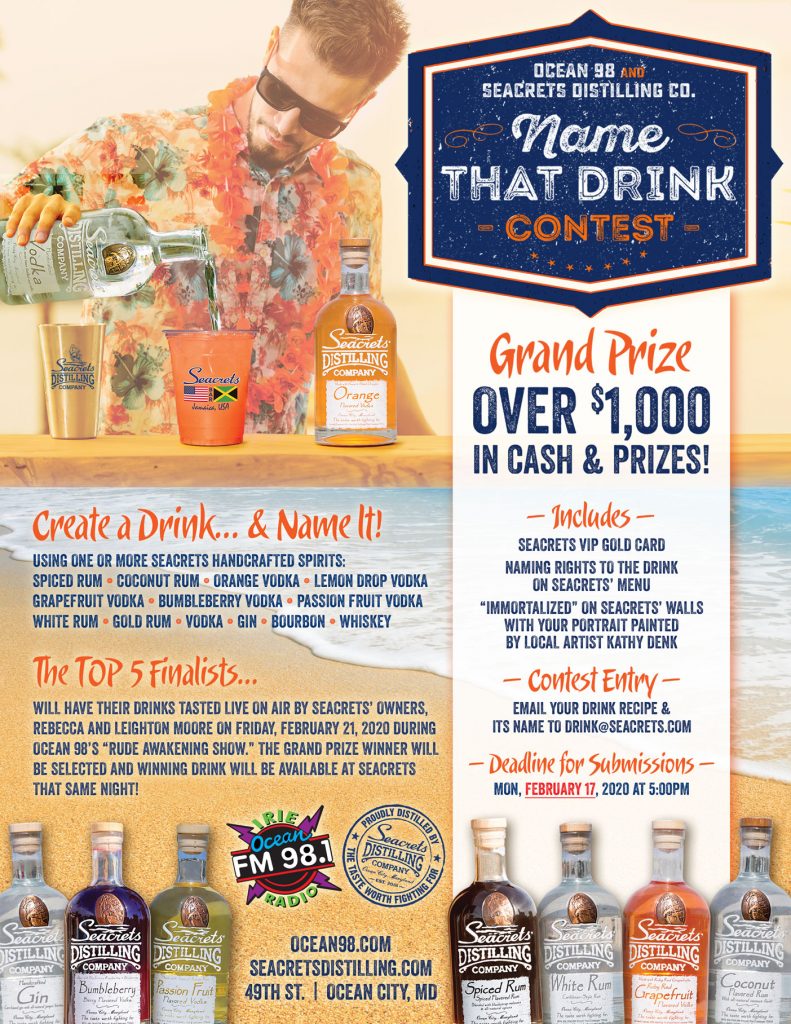 Name that Drink Contest Deadline
Now accepting entries for the 6th Annual Name that Drink Contest! Over $1,000 in CASH & Prizes up for grabs including a Seacrets VIP Gold Card, becoming immortalized on the wall at Seacrets and your drink featured on Seacrets Menu!
CONTEST RULES:
Create a drink and name it using one or more of Seacrets Handcrafted Spirits. Then send your drink recipe and its name to drink@seacrets.com. 
DEADLINE: February 17, 2020 at 5:00PM
TIPS FOR MAKING IT TO THE FINAL ROUND:
1. Stick to mixers available at Seacrets:
– Fruit: Lemon, Lime, Orange, Cherry, Olives
– Sodas: Coke, Diet Coke, Sprite, Ginger Beer, Lemonade, Club Soda, Ginger Ale, Tonic, Iced Tea, Ting (lightly carbonated Jamaican grapefruit drink)
– Juices: Orange, Cranberry, Pineapple, Grapefruit, Guava
–
Other: Strawberry Puree, Pina Colada Mix, Grenadine, Sour Mix, Red Bull, Bloody Mary Mix
2. Efficiency: As you know, in the summer time Seacrets can get extremely busy, the easier it is for our bartenders to make your drink, the more appealing your drink will be considered for the winner!
Seacrets Handcrafted Spirts:
The Top 5 Finalists have their drinks tasted LIVE on air by Seacrets' owners Rebecca and Leighton Moore on Friday, February 21, 2020 during Ocean 98's "Rude Awakening Show." The Grand Prize Winner will be selected and the winning drink will be available at Seacrets that same night!
Must be 21+ with valid ID