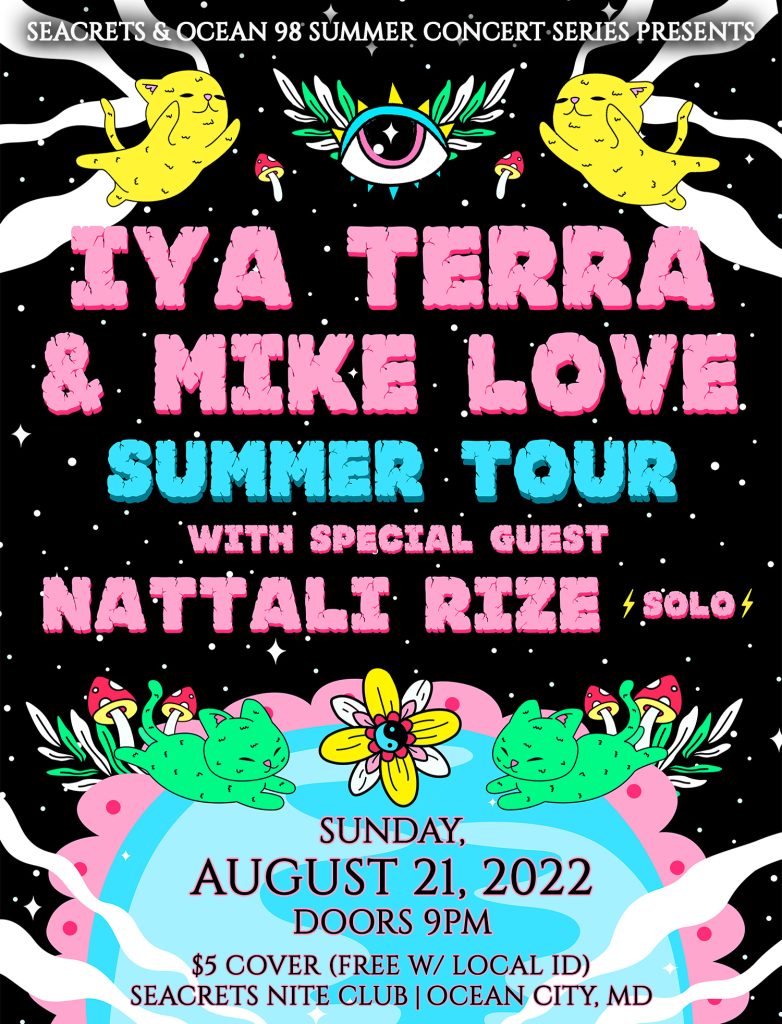 Iya Terra & Mike Love
Iya Terra and Mike Love will perform at Seacrets for a co-headlining event Sunday, August 21st!
Doors 9PM
$5 Cover (Free w/ Local ID)
Must be 21+ with valid ID
---
About Iya Terra
Listen, breathe. The kick drum is thumping in an offset rhythm to your beating heart and the bass is thundering vibrations through your entire body, tuning you into the stage and every other person standing in the crowd. Lightning strikes in your mind as dueling guitar riffs peel away the fog and a keyboard bubble floats loftily like clouds over it all. Then come the lyrics, messages of connection and grace. Ease flows through the entire scene and you're awoken by the tingle of resonance on your skin. Do you feel it? This is Iya Terra. Iya Terra means higher ground, which they seem to find everywhere. Whether it be the top of the latest charts or next year's festival billing, Iya Terra is constantly climbing.
Bringing a modern-conscious approach to songwriting, Iya Terra crafts messages in love & respect. Currently based out of LA, and with members hailing from the west coast, SLC, and Vegas, their powerful rhythm section provides the heartbeat over which scintillating guitars and soothing vocals float melodies of universal resonance.
Iya Terra released their first EP in 2014, then a debut album "Full Circle" in 2015. Then came the album that aligned the stars, "Sacred Sound" debuted at #1 on the reggae charts and the band's following has swelled ever since. Their third full length release and second reggae chart topping album "Coming to Light" followed in 2019. Kicking off 2021 with a new album Ease & Grace, they show no sign of slowing down. The new tunes are produced by EN Young and feature reggae hard-hitters Tribal Seeds, Trevor Hall, Mike Love, Bobby Lee of SOJA, Alborosie, and the legendary David Hinds of Steel Pulse.
But if Iya Terra wants you to know anything, it would be this: just breathe, set your mind at ease, you got your whole life to live. One step at a time, right here, right now, that's exactly where you want to be. The rest of your life starts today, so come along. Every single word you say, let it be peaceful, meaningful. Speak from your heart, it's yearning to be.
About Mike Love
Revolutionary music may seem hard to come by in these times, but that doesn't mean the revolution isn't still brewing. MeetHawaii'sMike Love–who spreads his positive and powerful message across the globe.
Love developed a unique style and sound rooted in the spirituality and message-based music of reggae and Rastafari, while also fusing progressive and classic rock, soul, blues, flamenco, jazz, classical, and more. At the core of Mike's music, is healing–he is an active social, animal and environmental rights advocate, using his music as a tool to educate and unite.
Love started playing guitar at the age of 15, and soon after began performing live as frontman for 10-piece band Dubkonscious. He then furthered his talents as a composer/lyricist, arranger and also producer on the band's album. At the Foot of the Mountain.
He then began to hone what has now become an internationally recognized, power-packed, one-man-band style show, using looping, multiple instruments and an array of different vocal techniques and musical styles to create a full and powerful sound that belies the fact that he is on stage alone. Love's solo performances have since taken him to some of the largest stages in the world.
December 2012 saw the release of Love's first solo album, critically acclaimedThe Change I'm Seeking.The album features his hit track. Permanent Holiday, which went viral on YouTube and currently has more than 32 million views [2022], expanding his fan base to the furthest corners of the globe.
With the release of his second album Love Will Find a Way and follow-up companion album Love Overflowing, Love solidified the bond with his fans, exhibiting the evolution they have come to expect from his music.
Love has performed at festivals and on stages in theUS, South and Central America, Canada, Europe, Guam, Australia, New Zealand and the Philippines, both solo and with his band The Full Circle. He has shared the stage with the likes of Michael Franti, Rebelution, Steel Pulse, Groundation, Xavier Rudd, JohnButler, Dave Matthews, Dub Inc., Trevor Hall, Nahko and Medicine for the People and Jack Johnson.
Notable festival plays include the Byron Bay Blues and RootsFestival (Byron Bay AUS), Reggae Sunska (Bordeaux FR), OneLove Festival (Auckland NZ and California USA), California RootsFestival (Monterey USA), Boomtown Fair (UK), Sziget Festival (Budapest EU), Woodstock Festival (Poland EU), Electric Forest(Michigan USA), Wanderlust Festival (Hawaii, USA) and many more.
Love releases his music independently on his own Love Not War Records label and is currently working on his highly anticipated fourth album, with singles set to release some time in 2022.