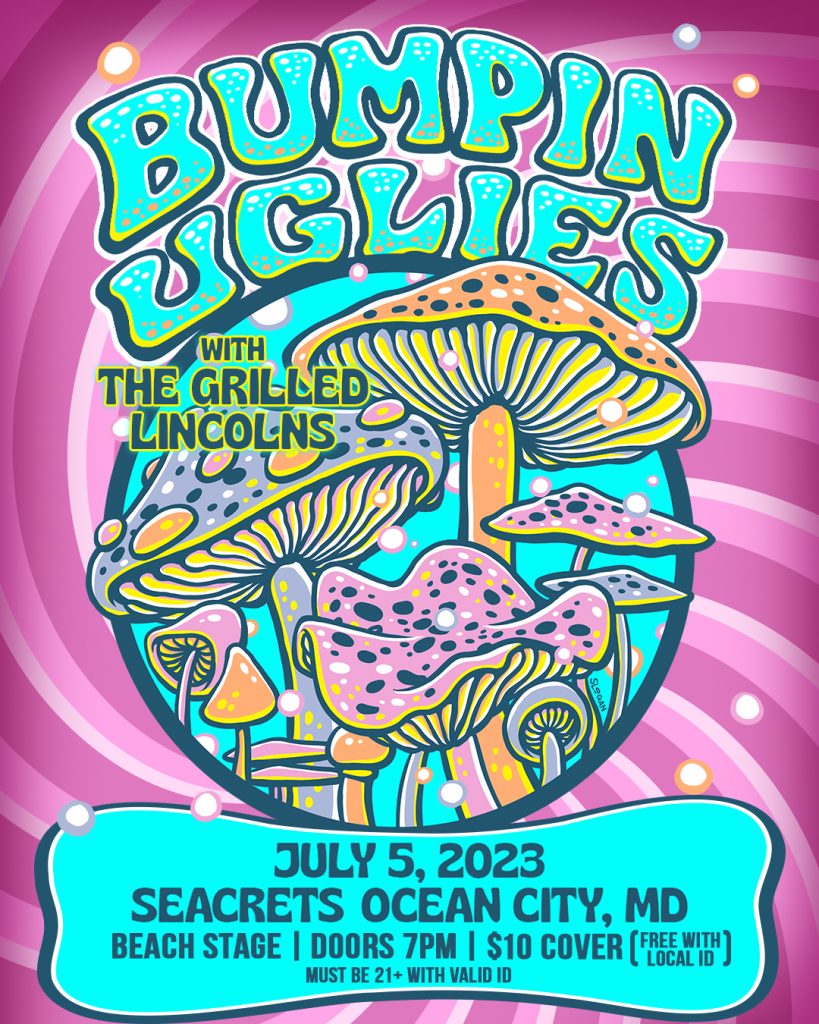 Bumpin Uglies
Punk reggae band Bumpin Uglies returns to Seacrets with special guests Grilled Lincolns Wednesday, July 5th!
Doors 7pm
$10 Cover Charge (free with local ID)
Must be 21+ with valid ID
ABOUT BUMPIN UGLIES:
Bumpin Uglies knows all about hustle. The Maryland reggae-rock band had spent more than a decade on the road, starting with local open mics and backyard parties and growing into road warriors, building an ever-expanding audience with sold-out shows in clubs and prime spots at festivals from coast to coast, on one national tour after another. Then the pandemic hit, and touring shut down.
After being in motion for so long, singer and lead guitarist Brandon Hardesty wasn't about to sit still, even if he couldn't be out on tour. In fact, Bumpin Uglies never really stopped working — they adapted. The group returned to playing backyard parties around Annapolis, where they're based, and added socially distanced concerts and full-band livestreams. In the fall of 2020, they also started releasing a new song every month as part of a project called the Never Ending Drop.
"We felt like prospectors going out and trying to find gold — it was just uncharted territory," Hardesty says. "We had to figure out a way to make a living. That's kind of what being a musician during Covid has felt like to me. You can do it, but you have to be bold."
Hardesty has been bold from the start. He was waiting tables when he started the band in his early 20s. With an ear for melodies and the determination to succeed, he poured his time and energy into making Bumpin Uglies a success. For years, the band did just about everything themselves, from booking shows to releasing their own albums, building a sense of momentum along the way that eventually became self-sustaining, and then Hardesty wasn't waiting tables anymore.
No surprise, then, that a musician with his strong work ethic found a way to take maximum advantage of the sudden surplus of time at home. For one thing, he got to hang out with his toddler son, and he and his wife welcomed a new baby. He also wrote a ton of songs. For the first time, Hardesty approached songwriting as a discipline, dedicating time to working on new music rather than waiting for inspiration to strike and then jotting down ideas in the back of the Bumpin Uglies van on his way from one gig to the next.
"I just woke up every morning and I made a pot of coffee, and I had this running list of ideas in my phone for hooks and riffs and progressions," he says. "I sat down every day and made myself write a song, and 85 percent of them were pretty good. And it was awesome. I really, really enjoyed the process."

About Bumpin Uglies
The trajectory of Bumpin Uglies started over a decade ago, making music with friends, playing backyard parties and anywhere else they could get a gig. For Brandon Hardesty, lead vocals and guitar, it was a simple time, but one that taught him lessons that stay with him today as he leads the band into the 2020s. One was that he would do whatever it took for him and his band to be successful. Another was in discovering that doing it his way was the only way, which still applies today. Bumpin Uglies do things their way, free to play, think, and write however they feel, critics and the mainstream music industry be damned.
In the early days, Hardesty was hustling waiting tables while stoking his musical fire with every minute of free time he had. A point came years ago when he knew it was time to put up or shut up if he was going to make a career as a musician, so he dug into doing all of the things it takes to grow Bumpin Uglies from a grassroots local band into a nationally touring act. It took a tireless DIY ethic; and it still does, but if Brandon did not have the singular focus on breaking through and achieving his musical dreams, the story of Bumpin Uglies wouldn't be what it is today.
Bumpin Uglies are a band that have hoisted themselves up and forged their own path, but even as they look around at where they are, how far they have come, it is clear to them that there is so much more work to do and they continue to do it every day. With the help of bassist Dave "Wolfie" Wolf, drummer TJ Haslett and keyboardist Ethan Lichtenberger, they are doing just that.
The band's latest release "Slow Burn" featuring Jacob Hemphill of SOJA has caught fire among fans, garnering hundreds of thousands of streams, multiple Spotify editorial playlist additions and most notably, making it onto Pandora's Top Thumb Hundred in the first week.
Currently on tour supporting the new single, the band is making their way down the west coast, hitting Cali Vibes on the way, before coming back East to close out their winter tour. There are plenty more dates already announced, as well as the band's own festival, Weekend at Wolfies, in June.
Who is Bumpin Uglies?
Brandon Hardesty – Vocals, Guitar
Dave Wolf – Vocals, Bass
TJ Haslett – Drums
Ethan Lichtenberger – Keys