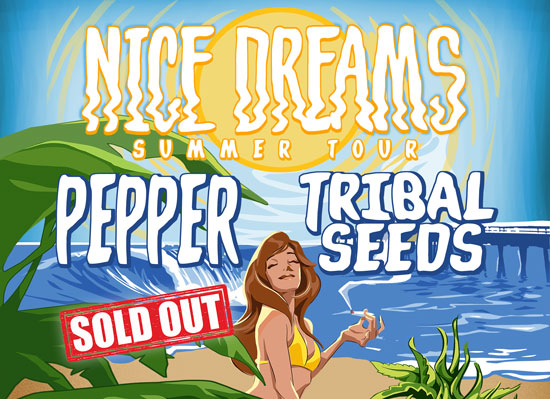 August 20, 2017
5:30PM–2AM
**SOLD OUT**
Seacrets & Ocean 98 Summer Concert Series presents:
Pepper & Tribal Seeds Nice Dreams Tour w/ special guests Fortunate Youth& Darenots live at Seacrets Sunday, August 20, 2017.
Tickets $45 – On sale at Seacrets Boutique and Ticketmaster.com
PEPPER:
In Hawaiian culture, "ohana" means family, a word that practically defines Pepper and makes a very fitting title for the trio's latest album due out April 29, 2016 on their own LAW Records. Formed in Kailua-Kona, Hawaii by Kaleo Wassman, Bret Bollinger and Yesod Williams, the now California-based trio relied on their longtime friendship and creative partnership to self-produce (their first time) and record Ohana in their newly established Kona Inn Recording Studio in Redondo Beach (former studio home to Pennywise). With Ohana, Pepper was able to bridge their past with their future. The first single, "Vacation", bassist Bret Bollinger describes as "…if James Brown and The Beach Boys got together and had way too many Mai Tai's," while "Start You Up" and "Never Ending Summer" demonstrate that with Ohana, Pepper is on a whole new level and better than ever.
TRIBAL SEEDS:
Based in San Diego, rock-reggae band Tribal Seeds come at their music from a different angle, more influenced by bands like Steel Pulse and Aswad than the common touchstone of Sublime. Formed in 2005 by the Jacobo brothers, singer Steven and producer Tony-Ray, the group issued its debut album, Youth Rebellion, that same year. The album was the first of many to be released on the group's own label, including a self-titled album in 2008 plus The Harvest from 2009. The Soundwaves EP followed in 2011, while 2014's Representing cracked the Billboard 200 albums chart. The album featured guest appearances from Don Carlos, Mykal Rose, and Midnite's Vaughn Benjamin.
In March 2017, Tribal Seeds won the San Diego Music Award for Artist of the Year. A new single followed, entitled "Rude Girl" which debuted among iTunes Hot Singles in the Reggae genre. The band is currently recording their fifth full length album, schedule for release in early 2018.
Tribal Seeds have toured throughout the United States, and have also performed in Mexico, Aruba, Tahiti & Peru. They have shared the stage with artists such as Dave Matthews Band, Jack White, Red Hot Chili Peppers, Jane's Addiction, Skrillex, MGMT, Cee Lo Green, Jason Mraz, Matisyahu, Sublime with Rome, Taking Back Sunday, O.A.R., Pretty Lights, Steel Pulse, The Wailers, Julian Marley, Stephen Marley, Gregory Isaacs, SOJA, Rebelution, Pepper, and many more.
www.pepperlive.com
www.tribalseeds.net
www.seacrets.com
www.ocean98.com