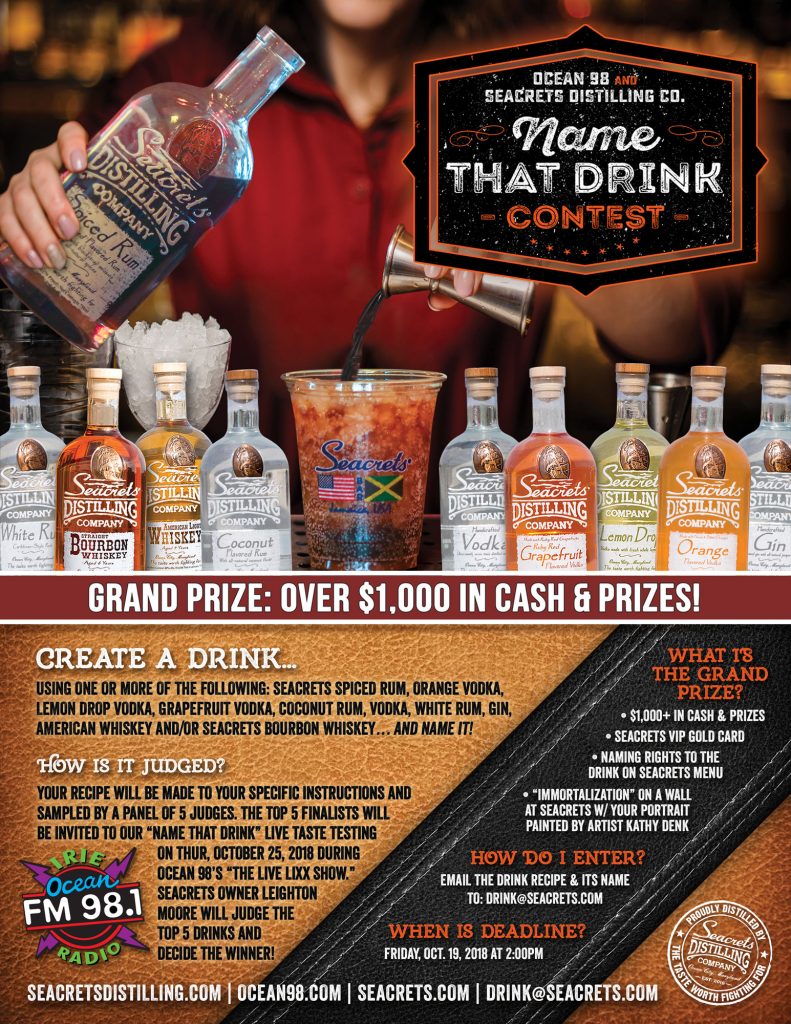 Grand Prize:
Over $1,000 in CASH & PRIZES
Seacrets VIP Gold Card
Naming rights to the drink on Seacrets' Menu
"Immortalized" on Seacrets' walls with your portrait painted by local artist Kathy Denk
Email your drink recipe and its name to: drink@seacrets.com
Submission Deadline: Friday, October 19, 2018 at 2:00PM
Contest Rules:
Create a drink using one or more of Seacrets Handcrafted Spirits:
Seacrets Spiced Rum, Coconut Rum, Orange Vodka, Lemon Drop Vodka, Grapefruit Vodka, American Whiskey, Bourbon Whiskey, White Rum, Vodka and/or Gin… And name it!
Available Mixers:
Fruit: Lemon, Lime, Orange, Cherry, Olives
Sodas: Coke, Diet Coke, Sprite, Lemonade, Club Soda, Ginger Ale, Tonic, Iced Tea, Ting (a lightly carbonated Jamaican grapefruit drink)
Juices: Orange, Cranberry, Pineapple, Grapefruit, Guava
Other: Strawberry Puree, Pina Colada Mix, Grenadine, Sour Mix, Red Bull, Bloody Mary Mix
Your recipe will be made to your specific instructions and sampled by a panel of judges. The Top 5 Finalists will be invited to the "Name That Drink" Live Taste Testing Thursday, October 25th during Ocean 98's "Live Lixx at Sixx" Show. Seacrets owner Leighton Moore will judge the top 5 drinks and decide the 2018 Name That Drink Contest Winner!
Email your drink recipe and its name to: drink@seacrets.com
Deadline for drink submissions: Friday October 19, 2018 at 2:00PM