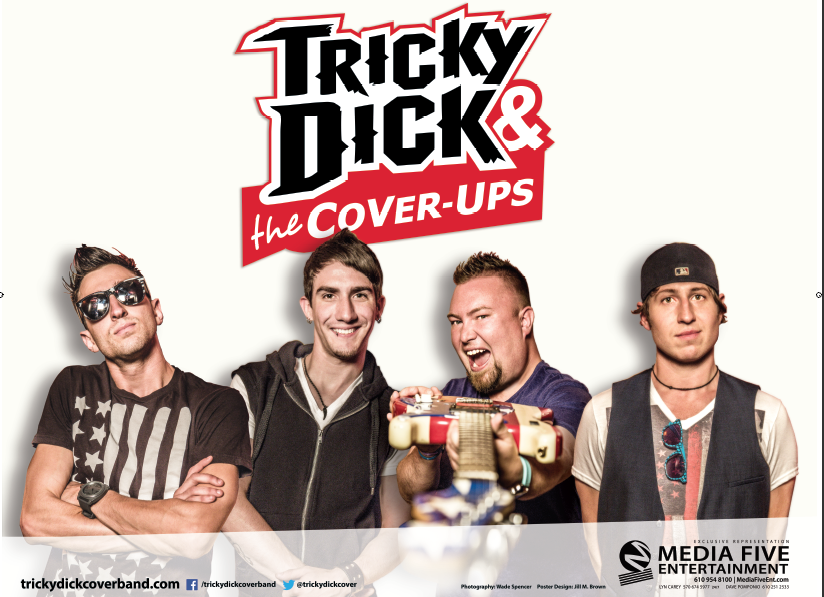 Tricky Dick and the Cover-Ups
We play fist pumpin, booty grinding dance tunes, some 80's staples, a few oldies but goodies and a healthy dose of hip hop and R&B. A few artists we cover: Flo Rida, Macklemore, Usher, Daft Punk, LMFAO, Bruno Mars, Rhianna, Taylor Swift, Ke$ha, Pit Bull, DMX, Taio Cruz, Waka Flocka, Lil Jon, Lil Wayne, Eminem, TreySongs, Bone Thugs n Harmony, Lady Gaga, Van Halen, Ginuwine, Shaggy, Run DMC, Black Eyed Peas, Kanye West, Notorious BIG, Will.I.Am., Chris Brown, Tag Team, Bon Jovi, Dr. Dre, Jay Z, Nicki Minaj and whatever else is current and fun.
We play songs in blocks (an 80's block, a 90's hip hop block, fist-pump block, Roxbury block, etc) with minimal downtime- in short, the music hardly stops. All the music you hear us created by the four of us- no backing tracks, no samples, no loops, no clicks.