Seacrets New Year's Eve Bash 2024
Ring in the New Year at Seacrets with a complimentary champagne toast and balloon drop at midnight,
then party 'til 4am with live entertainment all night!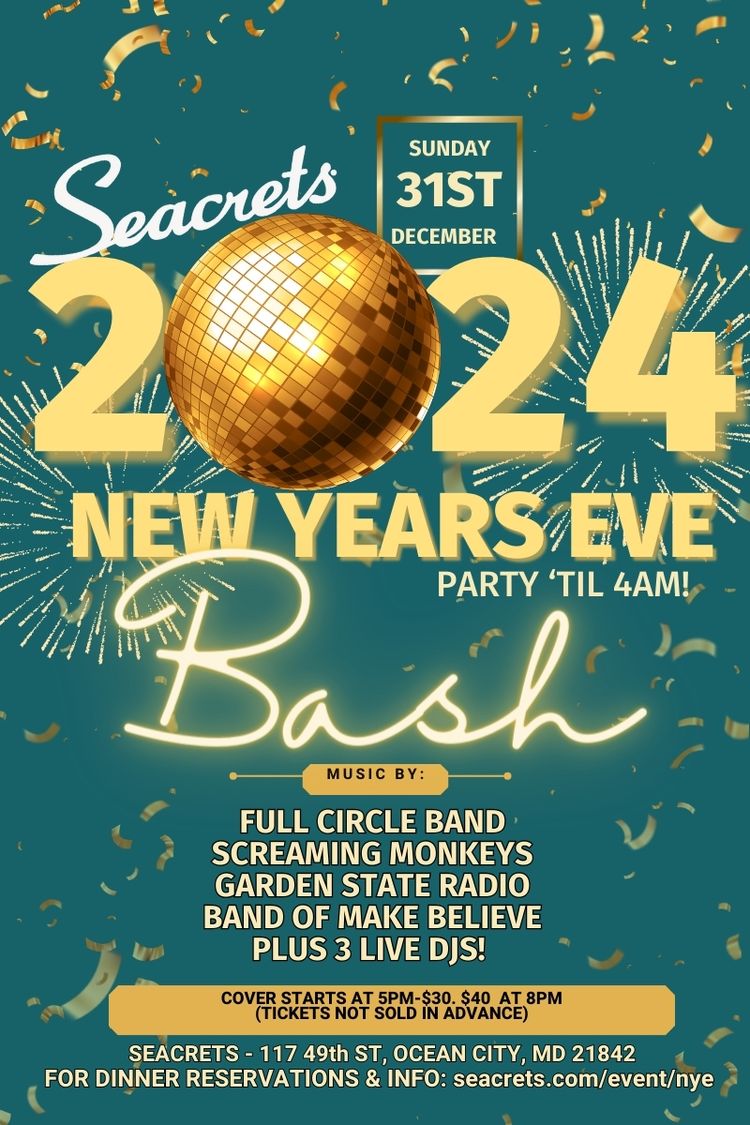 Live Entertainment:
Tiki Stage:
4:00-8:30 PM FULL CIRCLE
9:00 PM-1:30 AM SCREAMING MONKEYS
FEATURING DJ TUFF!
Nite Club:
8:15-12:15PM GARDEN STATE RADIO
1:00-4:00 AM BAND OF MAKE BELIEVE
FEATURING DJ CRUZ!
Main Bar:
10PM DJ CONNAIR!
New Year's Eve Dinner:
Enjoy a three course dinner including a Salad, Appetizer & Main Course. Cover charge for NYE Party, Soda, Tea, Coffee & a Champagne Toast also included. *Reservations Required.
Seating Times:
5:30PM- $79
6:45PM- $89
7:30PM-$99
8:45PM-$99
Reserve Your Seacrets NYE Dinner Tickets Here
*Does NOT include alcohol, dessert, or gratuity
*No Dining tables will be seated without a prior reservation
*Must be 21+

* THIS DINNER TICKET DOES NOT INCLUDE AREA 51'S NYE PARTY– IF  YOU WISH TO BUY A TICKET FOR AREA 51'S BLAST OFF TO 2024 TICKET, PLEASE CLICK HERE.
We do not sell cover tickets for New Year's Eve 2024 in advance and will have a $30 cover charge starting at 5PM, $40 at 8PM.
* Cover charge includes a champagne toast at midnight, balloon drop, and live entertainment
* If you leave, you will not have to pay cover again, however you will have to wait in line.
*There will be a limited bar menu available