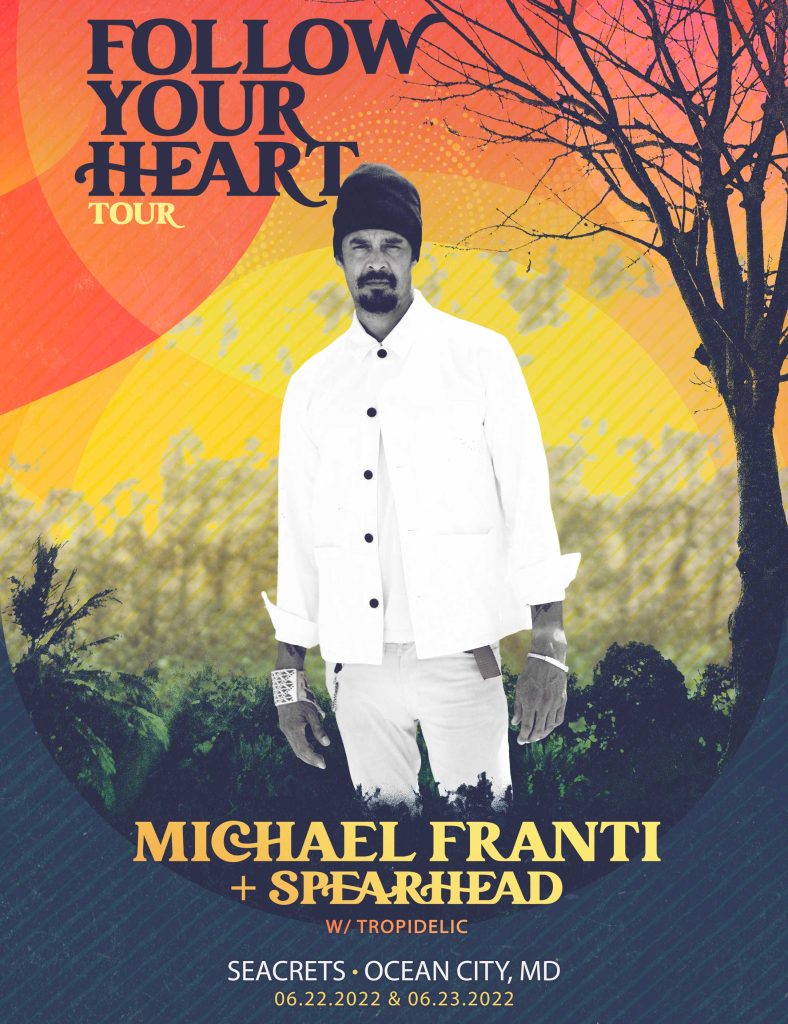 Michael Franti & Spearhead
**SOLD OUT**
Michael Franti & Spearhead return to Seacrets for 2 back-to-back shows June 22nd & 23rd!
Special Guests Tropidelic
Doors open at 6pm – Must be 21+ w/ valid ID
---
About Michael Franti
Michael Franti's a globally recognized musician, humanitarian, activist, and award-winning filmmaker revered for his high-energy live shows, inspiring music, devotion to health and wellness, worldwide philanthropic efforts and the power of optimism. Throughout his multi-decade career, Franti has earned threeBillboardNo. 1's with triumphantly hopeful hits"Sound of Sunshine,""Say Hey (I Love You)" and "I Got You," as well as six Top 30 Hot AC singles, nine Top 25 AAA Singles and threeBillboardTop 5 Rock Albums. "I Got You," lead single from his latest albumWork Hard And Be Nice, marked Franti's first No. 1 in nearly 10 years and landed on NPR's "Most Popular Songs of 2020," while the music video boasts over 1.3million views since its release. Michael Franti & Spearhead's latest single "Good Day For A Good Day" is available everywhere, with plans to release his 12th studio album in the Summer of 2022. Michael Franti & Spearhead embarked on the inaugural five-day Soulshine at Seacruise Nov. 3-7, 2021sailing from Miami, Fla. to Stirrup Cay, Bahamas. Soulshine At Sea included two Michael Franti & Spearhead shows, over 20 live band and DJ sets, 10+ yoga and fitness classes, inspiring speakers, live "Stay Human" podcast tapings, and uniquely curated activities hosted by Michael himself and other special guests. Guests also had access to healthy menu options including vegan offerings around the clock, an on-board juice bar, cooking demos and more. Soulshine At Sea is returning for Year 2, Nov. 4-8, 2023 setting sail from Miami to Costa Maya, Mexico! With sustainability and the environment top of mind, in 2021 Franti announced a pledge to join partner REVERB's Music Climate Revolution, to offset the carbon footprint of all their tours moving forward. This began on the road in Colorado with Franti & Spearhead's Good Day For A Good Day Weekend fromJune 4-6th, including one show in Vail, CO followed by three shows at Red Rocks Amphitheater. To keep the good times rolling, Spearhead'sGood Day For A Good Day Tour, kicked off August 2021 and included 20 summer shows in the U.S with co-headline dates from Trombone Shorty, The Revivalists, and Young The Giant plus several sold-out shows and support from Of Good Nature. Alongside the release of his new album, the band will be going on a coast-to-coast tour through the Spring and Summer of 2022, followed by 13 EU/UK shows at the top of 2023.Tickets are on sale now at MichaelFranti.com. In January 2019, Franti released his self-directed documentaryStay Human, which won an array of awards at film festivals worldwide and influenced his writing for his albumStay Human Vol. II(Thirty Tigers), which debuted at No. 1 on both the Americana and Independent Album charts and received critical acclaim fromUSA Today,Billboard, Associated Press andPaste. Influenced by the film, Franti's Stay Human podcast presented by Gibson features creatives from all walks of life, with new episodes available each week. Franti continues to foster community both on and off stage with a wish granting non-profit, Do It For The Love, founded by Franti and his wife, Sara. Do It For The Love brings those with life threatening illnesses, veterans, and children with severe challenges to concerts worldwide, fulfilling over 3,300 wishes and touching the lives of over 12,000 people. Franti also owns Soulshine Bali, a 32-room yoga retreat hotel in Ubud, Bali.Phase 2 of the hotel, including 16 new suites, a new restaurant, 90 mat yoga studio, infinity pool, spa, gym, opens in 2022!
https://michaelfranti.com/