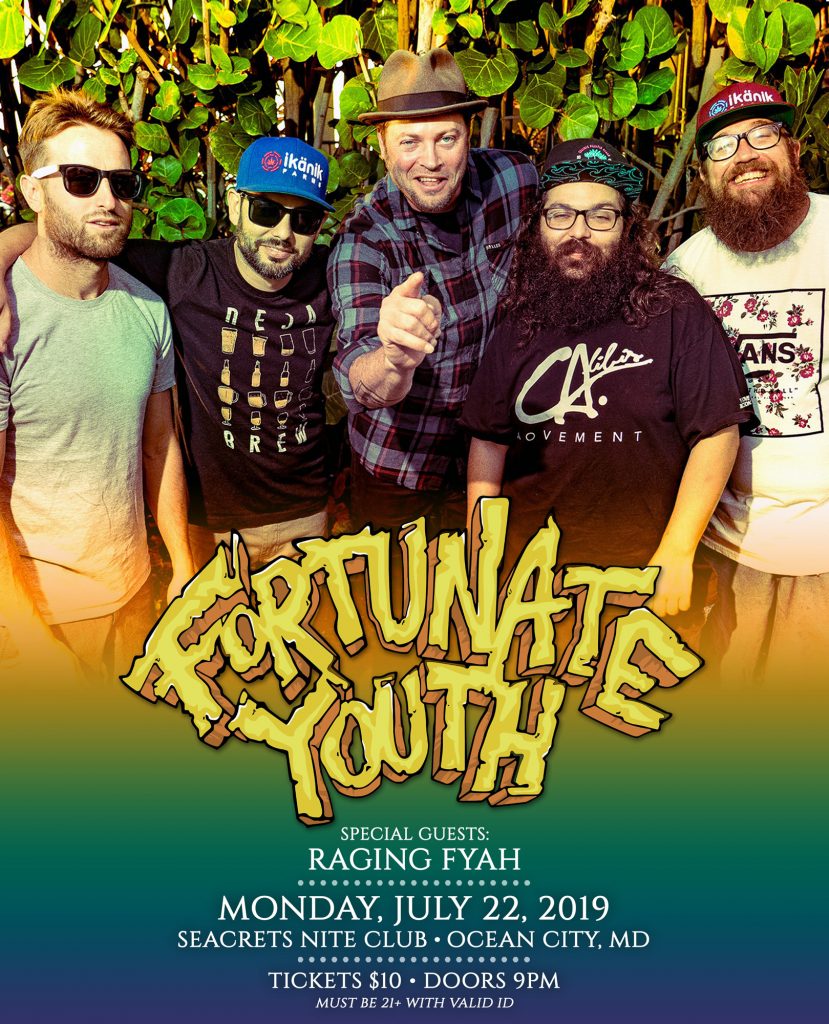 Fortunate Youth will be coming to Seacrets Monday, July 22nd with special guests Raging Fyah!
Doors open at 9PM | Tickets $10
Fortunate Youth is a collective of six outstanding musicians/producers who have taken the worldwide music scene by storm. Spreading inspirational messages of Peace, Love, and Unity, Fortunate Youth connects music lovers from all over the world, creating a global family of positivity and progressive ideals. FY was born in Hermosa Beach California, a popular beach town in Los Angeles County. Four members attended high school together (Jered Draskovich, Corey Draskovich, Travis Walpole, and Greg Gelb) linking with Mississippi transplant Dan Kelly (singer). The band has toured heavily since 2009 with over 27 tours nationwide and abroad. Fortunate Youth has released 4 full length studio albums, Three of which hit #1 on the Billboard and iTunes Reggae charts. "It's All A Jam" (2013), "Don't Think Twice" (2015), and "Fortunate Youth" (2017)
Regarded as one of Jamaica's most promising young acts, the band Raging Fyah makes music that is tethered to their island's enduring, much emulated roots rock reggae tradition, yet is distinguished by an expansive vision that propels their musical journey forward. The band received critical acclaim for the intricate harmonies, nuanced musicianship and impressive songwriting skills showcased on their previous self-released albums, Judgement Day (2011) and Destiny (2014), earning comparisons to legendary reggae outfits including England's Aswad and Steel Pulse, and Jamaica's beloved Third World.
Self-contained (as opposed an artist's backing band) within contemporary Jamaican music, Raging Fyah has made a significant impact upon America's vast reggae landscape (dominated by homegrown bands) with the Spring 2016 release of the 13 track Everlasting, their debut album for VP Records' Dub Rockers imprint. Recorded live at Kingston's legendary Tuff Gong Studios producer Llamar "Riff Raff" Brown (whose credits include Stephen and Damian Marley, Richie Spice, T.O.K and 2016 Grammy Award winners Morgan Heritage) incorporates broad based influences, various acoustic subtleties, and a few guest artists, all of which enhances as well as expands Raging Fyah's established reggae identity. These feats helped Everlasting gain a Grammy nomination in the Best Reggae Album category in 2017.
Must be 21 and older with valid ID