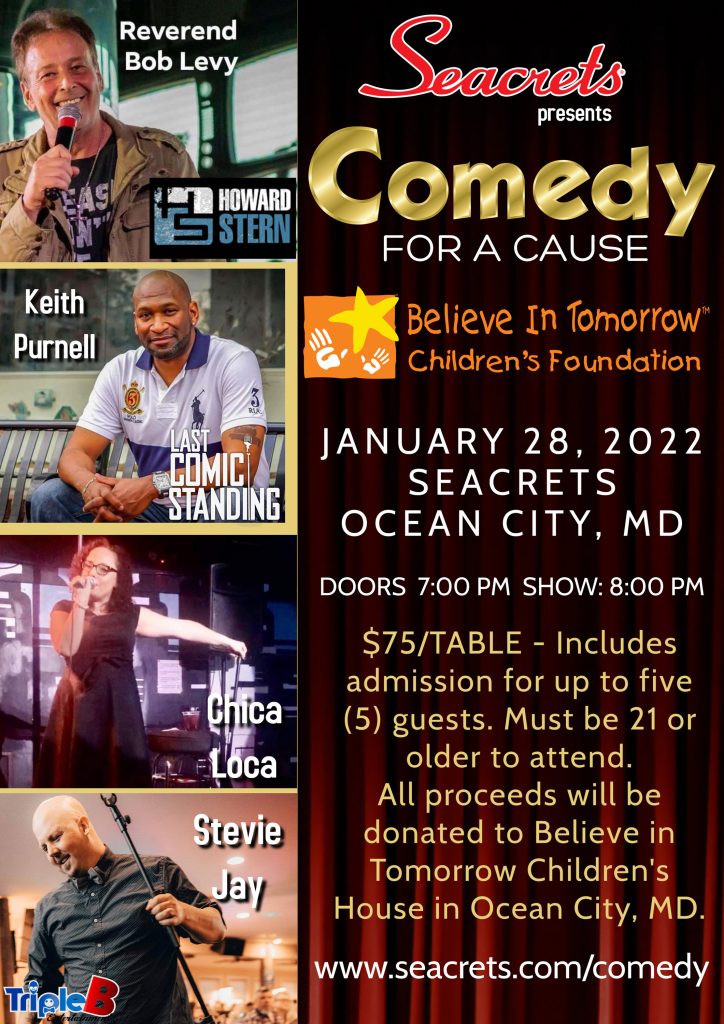 January 28, 2022
7PM–10PM
 COMEDY SHOW IS SOLD OUT!!
Headlining "The Reverend" Bob Levy
Stand-up comedian, radio personality, and, for a brief period, a professional wrestler who is best known as being a regular personality on The Howard Stern Show as well as being the co-host of the Miserable Men show on Howard 101 (Sirius XM). He has often been the host of comedy roasts, was a frequent guest on the Opie and Anthony Show and was a stand-up comedy performer on the Killers of Comedy tour.
Featuring Keith Purnell
Born and Raised in Delaware, Keith Purnell has been entertaining crowds and audiences in Comedy Clubs and Venues for over 15 years. His love of Arts and Entertainment has helped him appear on  NBC's "Last Comic Standing", The Howard Stern Show, Fox TV, MTV, B.E.T, and Sirius XM.Guest Appearance by Chica Loca
Guest by Stevie Jay
Hosted by Chica Loca
Music by DJ
Magellan
---
Believe in Tomorrow's Prom Night is February 5, 2022. Help make a difference for many deserving children and their families! Believe in Tomorrow Children's Foundation provides much needed hospital and respite housing to critically ill children and their families when they need it most. Their essential services allow families to stay together during a child's medical crisis, allowing them to renew mentally and physically.