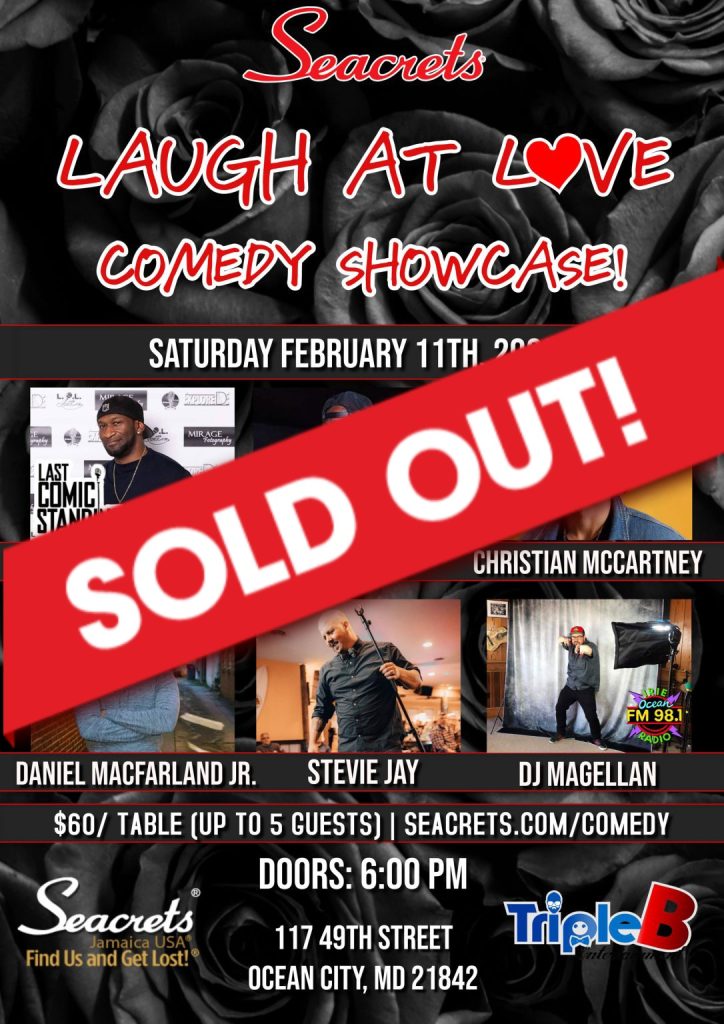 Laugh At Love Comedy Show
***SOLD OUT***
Laugh at love this Valentine's Day weekend with regional live stand up comedians Keith Purnell, Brian Isley, Christian McCartney, Daniel MacFarland Jr. and Stevie Jay.
$60/TABLE – Includes admission for up to five (5) guests.
*Tickets may be picked up in advance at Seacrets Boutique beginning on Thursday, 2/9 during business hours with valid matching ID.
Doors 6PM
---
Keith Purnell:
As seen on NBC's "Last Comic Standing", The Howard Stern Show, Fox TV, MTV, B.E.T., Sirius XM and more! He's a high-energy performer whose quick wit, style, and fast pace humor makes him a hit and personal favorite of audiences young and old. He performs at Comedy Clubs across the country and has appeared on Television and in Movies. Keith was a winner in the Howard Stern "Kill or Be Killed" Comedy Competition and was the Philadelphia Regional winner in the Sierra Mist Next Great Comic Comedy Competition.
Brian Isley:
As seen at the Apollo Theater. South Jersey Stand Up Comedy Championship winner. Brian has opened for established stars such as: TuRae Gordon (BET's ComicView, Martin Lawrence's First Amendment Stand Up), Jon Laster (Last Comic Standing), Joe Matarese (America's Got Talent), Sam Morril (America's Got Talent, Conan)
Christian McCartney:
McGooby's Joke House 2021 New Comedian of the Year! Christian McCartney is an animated, energetic, and entertaining comedian. Christian has amassed more than 4 million followers on TikTok, from around the world. He has performed with comedy stars such as TK Kirkland, April Macie, and Gordon Douglass.
Daniel MacFarland Jr.:
Riding the wave of life from Easton, Maryland, this laid-back comic has an uncanny ability to find humor in the simplest of circumstances. When not pushing the limits on stage, he's out pushing his limits through various adventure sports most notably summiting Mount Kilimanjaro and hiking the entire Appalachian trail! Daniel has performed throughout Maryland as well as D.C., Philadelphia, NYC, and Asheville, North Carolina. A finalist at Magooby's Joke House, he's fun for all and all for fun!
Hosted by Stevie Jay:
Has opened for Rich Vos (Comedy Central), Reverend Bob Levy (Howard Stern Show), Johnny Watson (SNL), Dante Carter (B.E.T and Comedy Central), Alex Reymundo (Showtime & Comedy Central), Frank Vignola (Comedy Central) and more!
Program Director of Ocean 98.1 FM, Has been brought out on tour with Iration and Passafire. DJed for G. Love, Michael Franti & Spearhead, Corona's Electric Beach, Jellyfish Festival, National Volleyball League (NVL), Celebrity Basketball Games, Ocean City Dance Parties, and countless other events up and down the east coast.