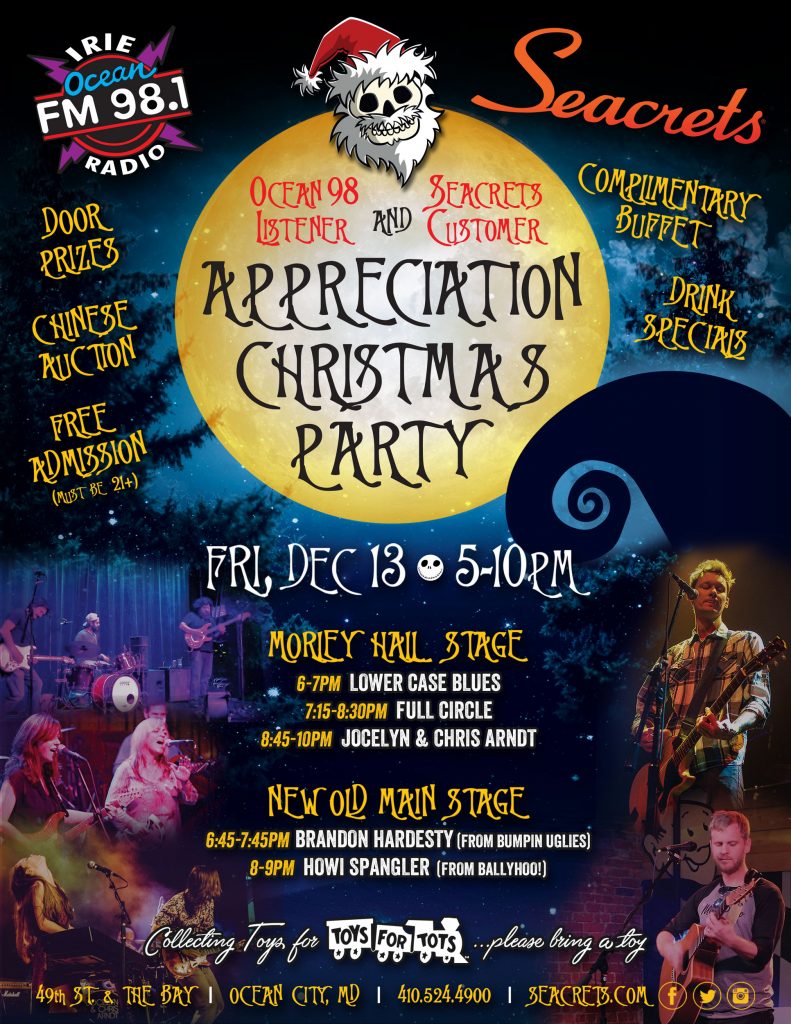 December 13, 2019
5PM–10PM
Join us Friday, December 13th as Ocean 98.1 WOCM and Seacrets Jamaica USA say thank you and Merry Christmas!
This FREE event will take place at Seacrets with live entertainment in the Morley Hall and the New Old Main Bar.
– Complimentary Appetizers
– Drink Specials
– Door Prizes
– Chinese Auction (Benefit Ocean 98's Cash For College Fund)
New Old Main Stage:
Brandon Hardesty (Bumpin Uglies): 6:45pm – 7:45pm
Howi Spangler (BALLYHOO!): 8pm – 9pm
Morley Hall:
Lower Case Blues: 6pm – 7pm
Full Circle: 7:15pm – 8:30pm
Jocelyn & Chris Arndt: 8:45pm – 10pm
Auction/Raffle proceeds will go towards the Ocean 98 Cash For College Fund. This fund provides $1,000 to be used for college tuition or to purchase books to three high school seniors in Worcester County, Wicomico County and Sussex County.
We will also be collecting Toys For Tots! Please bring a toy to donate 🙂
** Must be 21+ to attend w/ valid ID **