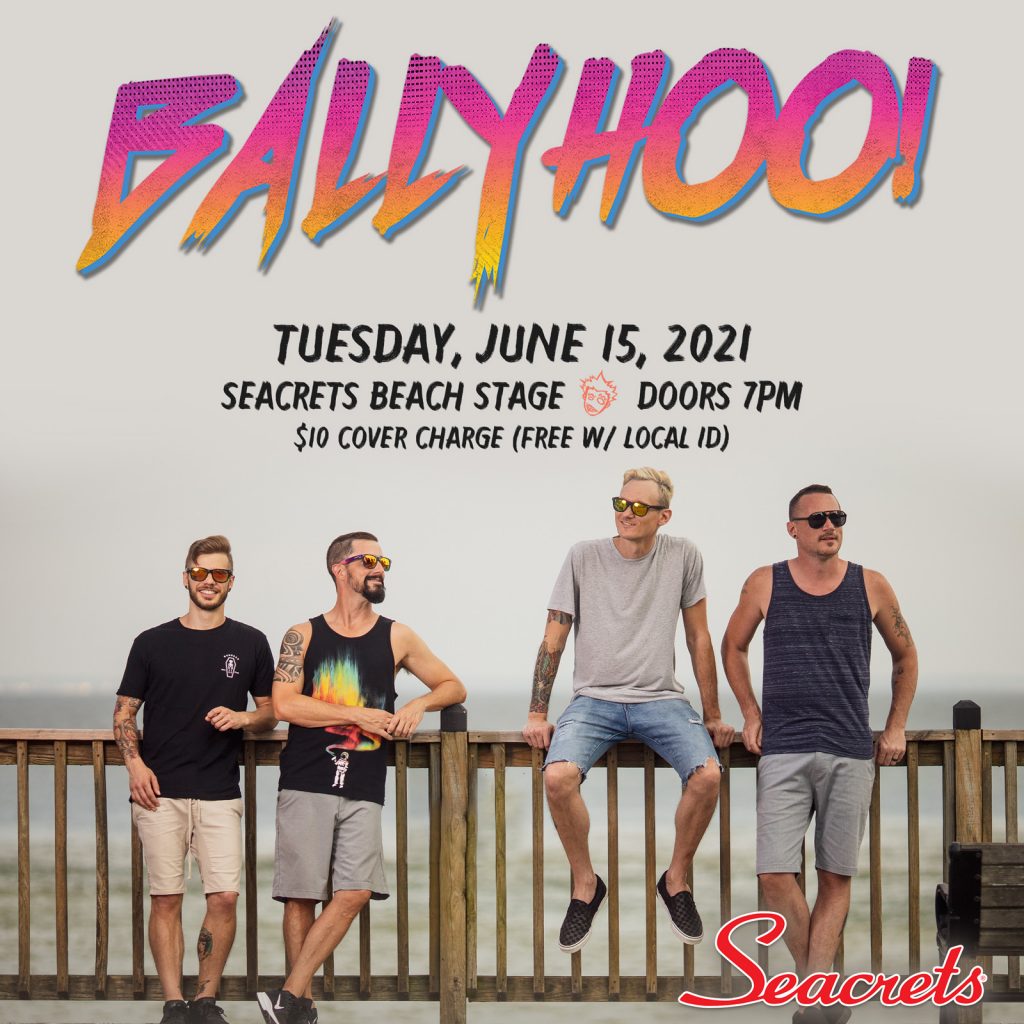 Maryland beach rock band Ballyhoo! is coming back to Seacrets Tuesday, June 15th!
Doors 7pm
$10 Cover Charge (free with local ID)
Must be 21+ with valid ID
---
About Ballyhoo!
Through 25 years and eight independent albums, the last four on their own Right Coast Records, Ballyhoo! have earned the exclamation point which marks their name. Starting in the basement of their mom's Aberdeen, MD, home, rocking out on guitar and drums respectively, practicing every day, brothers Howi and Donald Spangler formed the proto-punk band in the mold of Green Day and Nirvana, with an eye towards the emerging ska genre led by Goldfinger, Sublime, 311 and No Doubt.
The group's eighth and most recent studio album, the breezy, ska-fueled, hook-filled Message to the World, on their own Right Coast Records, finds the self-declared "beach-rockers," having grown up in public, accepting the responsibilities of adulthood while still hanging on to their dreams of world domination.
With its newest members now veterans – keyboardist Vandrey has been in the band since 2000, while bassist Lucera joined in 2014 – Ballyhoo! is ready for what the future brings.Stylistically, their music ranges from the hard-edged punk of 2018's Detonate, which captured the feelings of anger and depression from dealing with personal loss and the exhaustion generated by over a decade on the road, to the island reggae beats of the follow-up, Message to the World.
"Whatever you want to achieve, just focus on that and work towards it," explains Howi about the Ballyhoo! ethos. "Don't worry about followers, views or even money. Just keep making good stuff. One day it may be possible to finally quit that day job and live your dream full time."
Ballyhoo! is still doing just that, purveying good vibes, positivity and fun live shows meant to take you away from real life for just a little bit.
Maryland beach rock band Ballyhoo! is coming back to Seacrets Tuesday, June 15th!
About Joint Operation:
Joint Operation is a powerful rocknroll band from Baltimore, MD. This explosive four-piece has made quite a presence up and down the East Coast and through out the Midwest. JO has been billed with some of the biggest names in the genre, and played some of the biggest stages in the Midatlantic.
JO is a power duo of singer/songwriters Josh Lewis (vocals/guitar) and Fabrizio Scotto (vocals/drums). The two met as teenagers in Baltimore playing in small local bands. Once they met and combined forces, the midatlantic/midwest funk-rock scene has NEVER been the same. Accompanied by Mike Busch's savory guitar licks, and you will be up and feelin' the music in no time. The rhythm section made up of Jesse Johnson's funky bass hits that are always right in the pocket with Fabrizio's hard-hitting fills and snaps. Joint Operation values the idea of connecting with others through their music, while giving the audience a live performance they will never, ever forget. The band hopes to create music and play live shows to help others forget the struggles of life, while screaming out their problems at the top of their lungs. JO brings feeling.