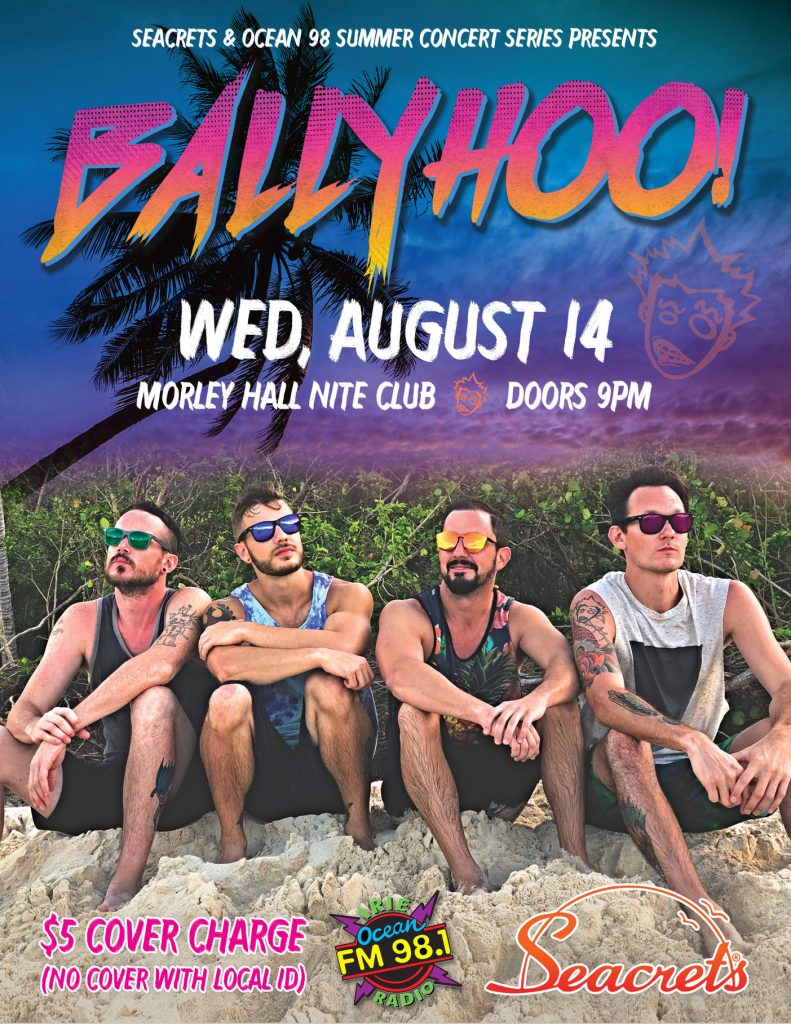 Maryland band Ballyhoo! is coming back to Seacrets for a free show August 14th!
The band's music has become known as the go-to for setting the tone for a day at the beach. A nice drive on a beautiful day. A backdrop for pre-game drinks with friends. Ballyhoo! shows are about love and good vibes. The melodies are contagious and the lyrics are meant to connect at a human level. This band wants to lift up anyone that wants to listen.
Hailing from the east coast, Baltimore alt-rockers Ballyhoo! have been on the road, taking their melodic anthems to the people for over a decade. Their "On Tour Forever" work ethic has taken them all over the country, steadily building a fan base of loyal "Hooligans."
In 2013, the band cracked the Billboard 200 chart at #189 with their 5th album, "Pineapple Grenade," released on their own label,
In 2014, the album was followed by an EP, "The Cool Down: Vol. 1," a collection of acoustic renditions of classic Ballyhoo! songs as well as 3 brand new songs: "Beach Party," "ADHD" & "Overnight Sensation."
2015 brought even more touring and music with the band supporting well known ska-punkers Less Than Jake and Reel Big Fish, Rock/Reggae icons Pepper, while also releasing two singles: "Fast Times" & "Mixtape." The latter will appear on the band's new album, "girls." slated to be released this Summer. Ballyhoo! joined forces with PledgeMusic, rallying fans to be a part of the making of this new album. The campaign was a success with well over 100% funding.
Now in 2016 with a new album of songs produced by Paul Leary (Sublime) & Matt Wallace (Maroon 5, Faith No More), Ballyhoo! is back out on the grind.