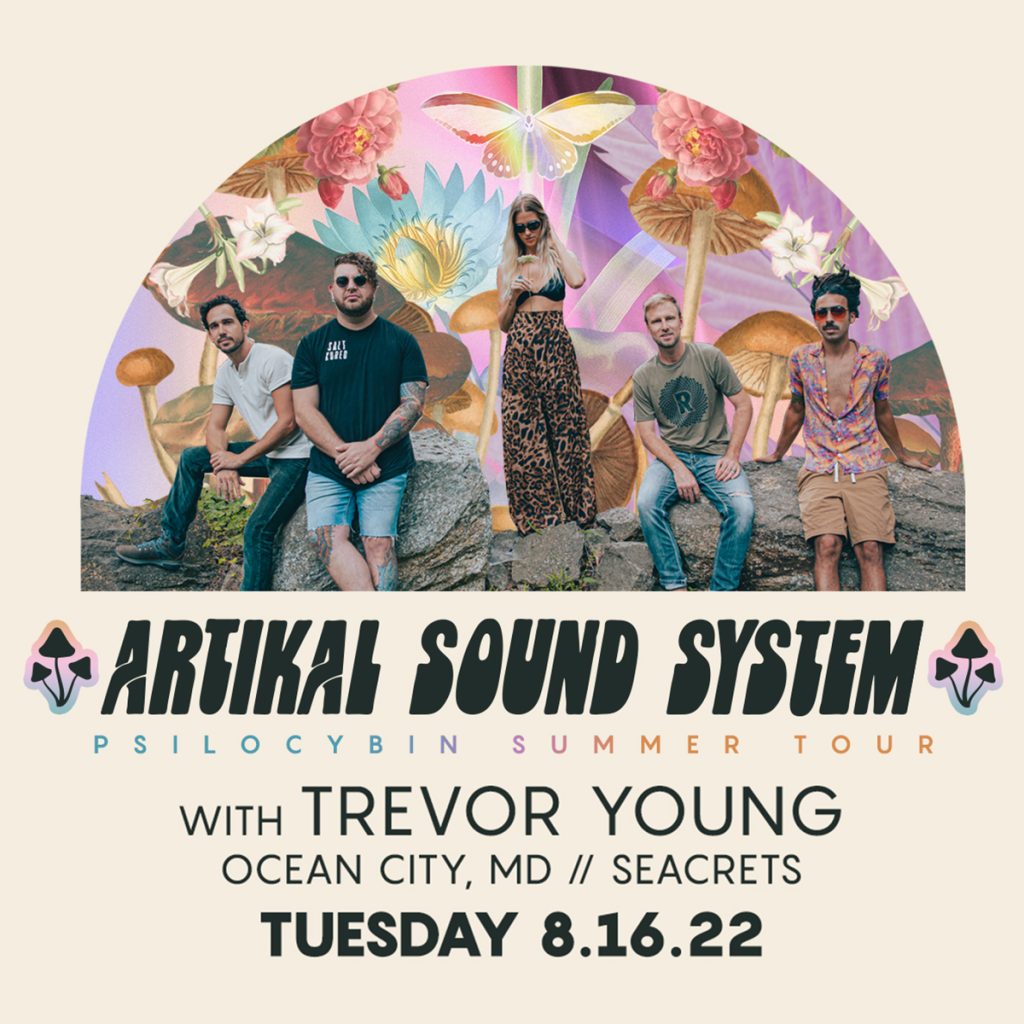 Artikal Sound System
Reggae band Artikal Sound System will perform with special guest Trevor Young from Soja Tuesday, August 16th!
Doors 9PM
$5 Cover (Free w/ Local ID)
Must be 21+ with valid ID
---
About Artikal Sound System:
Del Ray, FL — Artikal Sound System is excited to release their debut album Welcome to Florida. The Del Ray, FL based band brings their R&B twist to the reggae – rock genre with the new album out today on Silverback Music's Controlled Substance Sound Labs. Welcome to Florida is available everywhere you listen to music. Download & Stream here: https://cssl.fanlink.to/welcome-to-florida.
On Welcome to Florida, Artikal Sound System has created a sound that is edgy, raw with emotion and authenticity, and based on life events. The 12 track deep album comes out on the heels of a few stellar releases. Included on the record is the beautiful R&B song with pop sensibilities "Stayed." The song released as a single, embellishes a failed relationship through post breakup eyes. Logan reflects: "Next time you're thinking about texting your ex, listen to this song instead. This one is for when you know it's for the best you're not together anymore but you can't help but look back and romanticize the past. So when that moment comes around, where you just want to wrap yourself up in the familiarity of someone you once had, play this song and then keep moving on." Another standout is "Dissolve" which delves into the ending of a friends with benefits relationship. It received a critical review by Bong Mines Entertainment blog who hailed the single, "relatable narrative and ear – pleasing vocals…"Dissolve" serves as a tasty appetizer to what listeners can expect to hear from Artikal Sound System in the near future."
Artikal Sound System also showcases their musical prowess, soulful vocals, and witty song writing on Welcome to Florida. Most exemplary is the critically acclaimed anthem dedicated to any one feeling the sting of love gone wrong, "You're an Asshole." The single resonated deep with fans and critics including tastemaker blog LA on Lock commenting "This track lays it all out there, and will no doubt be sent as a 'dedication' to more than one taker in this world on their way out the door after being found out." "You're an Asshole" was accompanied by a dark humored music video that takes place in a red – lit graveyard that sets the stage as the song cycles through the emotional stages of breakup, watch the full video here: https://youtu.be/qeP3brO8shY.
Collaborative as they are singular, Artikal Sound System's outstanding album collaborations include the single " Spiritual Broadcaster ," which features The Elovaters. The Dubbest makes an appearance on "One With You" and the newest single released "When I Wanna" features a stellar collaboration with the hip hop duo, Little Stranger.
Artikal Sound System is comprised of Logan Rex (vocals), Chris Montague (guitar), Fabian Acuña (bass), Christopher Cope (keys), and Adam Kampf (drums). They worked with renowned reggae – rock producer Danny Kalb on Welcome to Florida, who pushed their edgy sound and saw them explore deeper themes to yield the most intimate and personal album to date. While recording the new record, Logan spent a few days up at White Star Studio outside Charlottesville, VA laying down vocals. They also recorded Welcome to Florida at both Chris Montague's home studio Oceanside Audio in Boynton Beach, FL, and at the band's good friend Dean Fishback's studio Seven Hills in Lauderhill, FL.
Ever such the road warriors, Artikal Sound System have graced the stage with fan celebrated artists like Dirty Heads, Common Kings, Eli Mac, Fortunate Youth, The Hip Abduction, The Green, Badfish, Ballyhoo, Bumpin Uglies, Josh Heinrichs and The Elovaters. And have been included on influential festival rosters including Reggae Rise Up, Arizona Roots, Summerfest, Dirty Heads Orlando Vacation, Dry Diggings, Reggae in the Rockies, Gasparilla Festival, Summerfest, California Roots: BAJA Sessions, and California Vibration s. Critical acclaim and a dedicated fan base has followed the young band with Ink19 taking note: "Artikal Sound System … also made a case that they should be moving onto bigger things. I wouldn't be surprised to see any of these groups on the main stage in a few years.